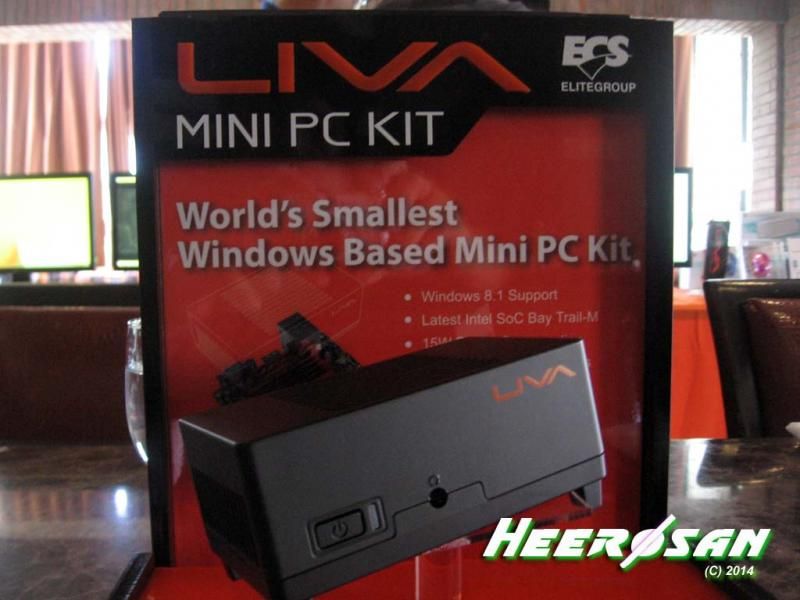 If you're looking for a desktop PC unit but you don't have space to put it and at the same time saves energy? Worry no more, that's because ECS Elitegroup introduces their newest product that saves space and energy efficient; may I present, the LIVA Mini PC.
The launch of the ECS LIVA was held at Cafe 1717 at the El Pueblo in Ortigas last November 28. The LIVA Mini PC is the world's smallest PC that was ever invented. At just 190 grams and almost the size of a smartphone box packaging, the LIVA PC lets you save space at the same time its portable; you can bring it anywhere, all you need is a monitor/LED TV/projector, keyboard and mouse and you're ready to go. As in terms of performance, don't let this small size fool you, the LIVA is housed with an Intel SoC (System-on-a-Chip) Bay Trail-M processor using the latest Silvermount microarchitecture allowing the LIVA run on low power consumption and at the same time gives high performance that of a normal desktop PC.
Speaking of low power consumption, the LIVA runs only on 15 watts, thanks to the Intel SoC Bay Trail-M processor, low-voltage DRAM and Micro USB power supply design, we can get to enjoy full PC performance without the power hungry consumption that of a normal desktop PC, which saves us on electricity consumption. Another feature on the LIVA is that this is the first mini PC that runs on a powerbank, can you believe that? Yes, that's what I said, the LIVA can run on a 3 Ampere powerbank since the LIVA only consumes 15W of power, so its perfect plugging a powerbank into this unit which can run for 30 mins.
The LIVA has a dual display which allows connect two monitors or 1 monitor and 1 LED TV (via HDMI connection), running at the same time; great for home entertainment media center where you can play movies on a hard drive thanks to the built-in video with full HD experience. There are ton of uses for the LIVA Mini PC; you can use it in the office, a media presentation, Thin client, entertainment center or just personal computing/browse through the internet.
Here are the full specs:
Dimensions (LxWxH): 118mm x 70mm x 56mm
Weight: 190 grams

Processor: Intel SoC (System-on-a-Chip) Bay Trail-M processor 1.8Ghz
Memory: 2Gb DDR3L embedded on the motherboard
Storage: Built-in eMMC 32Gb (Black) / 64Gb (White)
Networking: Gigabit LAN x1
Audio: 2CH Audio Jack x1
Ports: USB 3.0 x1
USB 2.0 x1
Expansion Slots: M.2 slot supports WiFi 802.11 a/b/g/n
and Bluetooth 4.0 card combo
Display Outputs: VGA x1
HDMI x1
Input: AC 100-240V
Output: DC 5V/3A
Operating System: Windows 8.1 / 64bit
The LIVA Mini PC is fully disassembled in-package. Just like assembling a full desktop CPU, the LIVA can be assembled in just 6 easy steps, all you need is a screwdriver to assemble the whole unit. The LIVA Mini PC comes with a motherboard that houses the processor, built-in DRAM and the eMMC storage, the antennas (long and short) for the WiFi and Bluetooth connection, the M.2 WiFi / Bluetooth card, housing case, adapter, Driver CD (you need an external CD/DVD drive to install it) and the users guide manual.

The LIVA comes in 2 colors: the 32Gb Black and 64Gb White. Currently, the black is now out in the market and priced at Php 8,800 while the White version still yet announced when it will be available here in the Philippines probably in January next year.
Check out my coverage highlights of this event by clicking on the images.