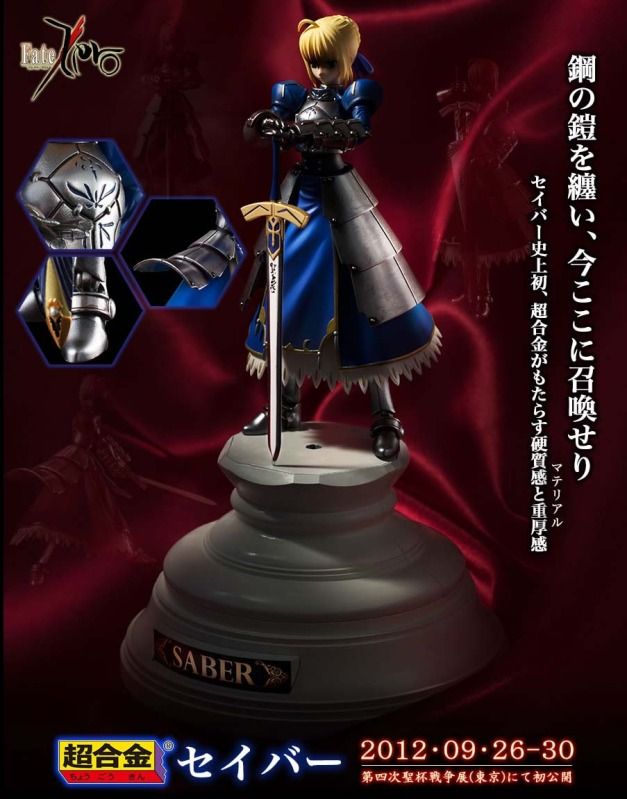 Ok I'm surprised to see this,
Bandai
will unveil their next Chogokin figure and the next figure will come out is none other than Saber from Fate/stay night and its Prequel and sequel franchise, Fate/Zero and Fate/hollow ataraxia respectively.
As with the other previous figures released in the Chogokin line, Saber will have die-cast parts on the figure, probably on her weapons as well, and it will have lots of articulation on it; you can probably pose her battle stance or fight scenes from the anime or game. Chogokin Saber will include her Excalibur sword, Avalon sheath and a display base.
The figure will be unveiled during the Fate/Zero event in Tokyo celebrating the anime series franchise. It will be held on September 26-30 at the World Import Mart Exhibition Hall A, 4th floor No. 3, No. 1 chome Higashi-Ikebukuro, Toshima-ku, Tokyo.
The date release and price of the figure might be announced within the event. For more details on this, go to Fate/Zero's event
page
.
Fate/stay night (which Saber is one of the main characters in the franchise) started originally as a visual eroge Windows PC game by TYPE-MOON released in 2004, it was followed by its sequel, Fate/hollow ataraxia in 2005. Fate/stay night was turned into a 24-episode non eroge anime series in 2006 and it was followed with a movie Unlimited Blade Works which was shown in 2010. The prequel anime series of the Fate franchise, Fate/Zero just recently concluded its second season run ended last June 23.